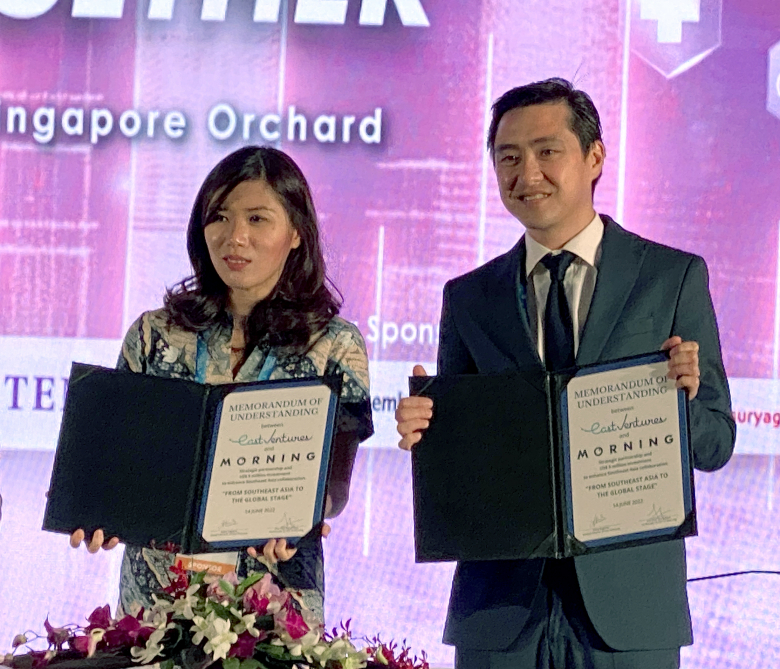 Morning, Singapore-based coffee technology company, raises US$ 5 million of series A funding led by East Ventures
Morning, a coffee technology company, today announced the raise of its Series A round at US$ 5 million led by East Ventures with participation from zVentures (corporate venture arm of Razer), P9 Capital, Wee Teng Wen of The Lo & Behold Group and other existing investors. This investment is also marked by the official signing of Memorandum of Understanding (MoU) of the investment in the Indonesia – Singapore Business Forum that happened on 14 June 2022, at Hilton Singapore Orchard. This strategic partnership serves as a strong commitment from involved parties to further enhance Southeast Asia collaboration. 
Co-founded by specialty coffee pioneer, Leon Foo (Co-founder and Chief Executive Officer), Morning is a coffee tech ecosystem combining a Marketplace of the world's best specialty coffee capsules with a state-of-the-art Machine that borrows precision-brewing features from professional coffee equipment.
Since its official launch in mid-2021, the brand has sold thousands of its iconic IoT-enabled Morning Machines in almost 30 countries. It also grew and expanded its presence from Singapore & South-East Asia to the United Kingdom with plans to continue its global expansion over the next 12 to 18 months. At the heart of the Morning experience is an IoT ecosystem with recipes influencing specific brew parameters that customers can draw on to brew cafe-quality coffee at the touch of a button. Leveraging technology to bring home brewers closer to their favorite roasters, and delivering convenience without compromising quality. Today, the app is a repository for over 1,000 roaster recipes developed by their community of 60 leading coffee roasters.
"Coffee culture has been evolving by leaps and bounds around the world in the last decade. Coupled with an exploding demand for better convenient home coffee solutions, fueled by the pandemic and remote-working trends, we believe that Morning is optimally positioned to capitalize on this trend. We're extremely grateful for the support garnered from our Series A round with the market's leading experts and mentors: East Ventures, zVentures, Wee Teng Wen, and P9 Capital… who will play critical roles in growing Morning, a global household name." said Leon Foo, Co-Founder and Chief Executive Officer of Morning.
"We believe the good experience of enjoying coffee is the combination of the best coffee beans, roasters, and the ability to serve it in a timely manner. This investment will enhance Southeast Asia (SEA) collaboration and showcase SEA ecosystems to the global market, integrating the best of Indonesia coffee beans with the ease of Singapore-designed coffee technology and machine of Morning," said Willson Cuaca, Co-Funder and Managing Partner of East Ventures. 
Morning will utilize the fund on two fronts. To develop and diversify their product offering, creating a more immersive and robust ecosystem for the specialty coffee lover across their Machine, Mobile App and Marketplace, and to expand their presence globally, enhancing their in-market experience for key markets.